PICTURES
COMPETITION EVENTS
Big Bore Pistol : production, revolver, standing and unlimited
Small Bore Pistol : production, revolver, standing and unlimited
Field Pistol : production and anysight
Big Bore Rifle 200 meters : hunter and silhouette
Small Bore Rifle : light and silhouette
All matches are 40 shots. rifle target will be orange.
The competition only consists in European Championship. There won't be World Cup events during the competition.
Firearms and equipment control could be done at any time during the compétition.
COMPETITION SCHEDULE (3/8/2019)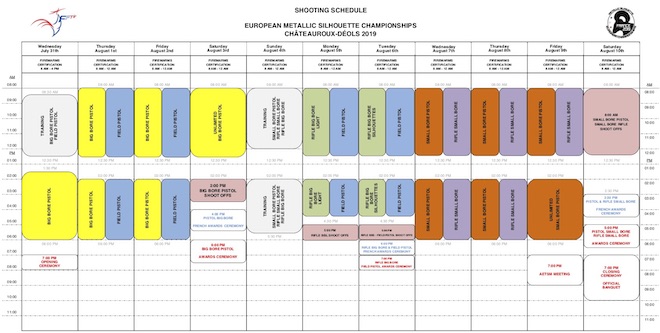 You can consult the shooting protocole for this event by clicking on the icon following:
All foreign citizens who wish to come to France must be able to present a regulatory proof of the purpose of their stay, means of support and accommodation.
Except when a visa is necessary to enter France. It must be applied before going to France at a French consular office.
You can find all the information to get a visa on the official website: