INVITATION
Dears Friends, The French Shooting Federation & The Lorraine Shooting League are pleased to invite the W.B.S.F. members to participate to the 1st World Rimfire Championship from the 7th to 12th July 2014
EUROSTAND
Chemin du Langenberg – Zac des Douanes 57330 Volmerange les Mines – FRANCE
www.eurostand-lorraine.fr
GPS localisation : 49,456 N / 6,076 E
CONTACT
M. QUENTEL Philippe
Fédération Française de Tir – 38 rue Brunel – 75017 PARIS – FRANCE
Tel : (+33) 1 58 05 45 45 – Fax : (+33) 1 55 37 99 93 – occ@fftir.org
COMPETITION OFFICIALS
F.F.TIR official :                                      Patrick BURDIN
Competition Manager :           Jean-François RAYBAUT
Chief Range Officer :              Patrick ABEIJON BUJAN
Chairman of Judge Comitee :               Jeannot WEISS
ENTRY FORMS
Each nation must return the organizational documents. All documents must be completed with a computer.
Nations registering their shooters are committed to comply to the rules of W.B.S.F. relating to the specific conditions of nationality (rules W.B.S.F. Section A).
PRELIMINARY FORM MUST BE RETURNED BEFORE JANUARY 3RD 2014
FINAL FORMS MUST BE RETURNED BEFORE 3RD APRIL 2014
The Organizing Committee reserves the right to reject any entries received after the deadline.
DELEGATION
Number of shooters per nation :
Team Event : 3 shooters Adults per team – 2 teams maximum (W.B.S.F. rules A.18)
Individual Event : 6 shooters (Adults & Juniors) per nation maximum (W.B.S.F. rules A.15)
The numbers of competitors from each country may be extended to 9 if sufficient range space is available (W.B.S.F. rules A.16)
ENTRY FEES
The entry fees should be paid in Euros through a bank transfer at the same time when the PRELIMINARY FORMS are sent :
REGISTRATION FEE PER SHOOTER FOR TEAM EVENT : 100 euros
REGISTRATION FEE PER SHOOTER FOR INDIVIDUAL EVENT : 100 euros
(including Gala diner for shooters)
COMPETITION SCHEDULE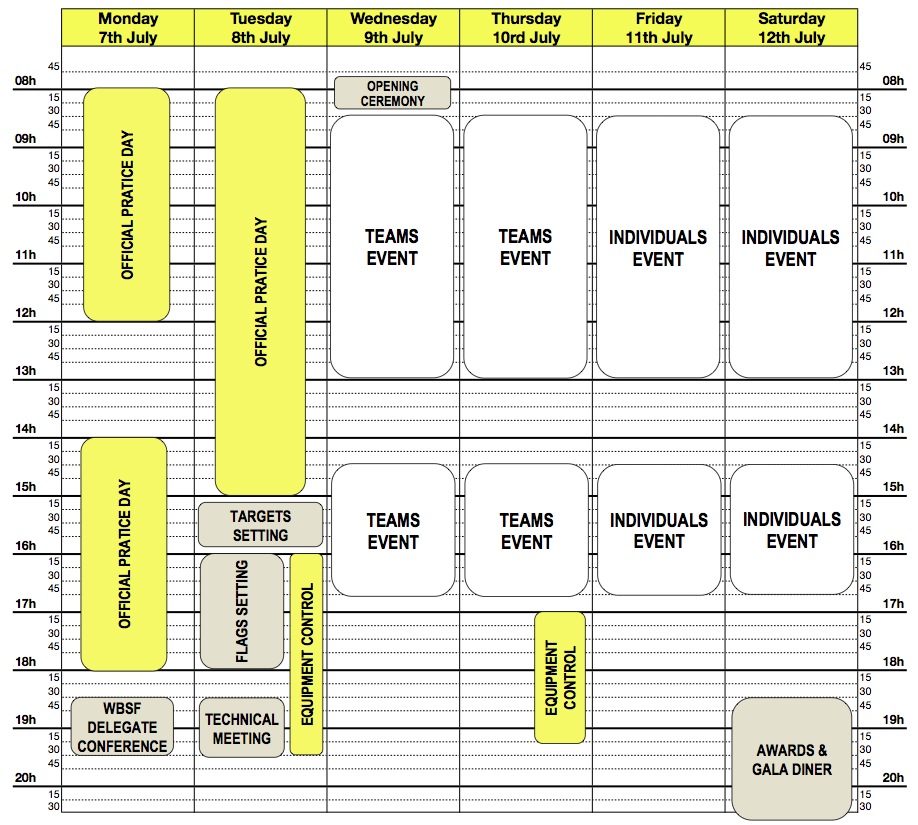 VISA FOR ENTERING FRANCE
All foreign citizens who wish to come to France must be able to present a regulatory proof of the purpose of their stay, means of support and accommodation. Except when a visa is necessary to enter France. It must be applied for before leaving for France at a French consular office. You can find all the information to get a visa on the official website :
www.diplomatie.gouv.fr
TRANSPORTATION
AIRPORTS
Paris CDG 365 Km  –  Francfort 254 Km  –  Zurich 399 Km
Amsterdam 437 Km  –  Bruxelles 237 Km  –  Luxembourg 28 Km
MOTORWAYS North-South:
A31/E25 dir. Luxembourg-Arlon  /  A31/E21/E23 dir. Nancy-Dijon  /  A30/E50 dir. Longwy-Bruxelles-Antwerpen
MOTORWAYS West-East:
A4/E50 dir. Paris  /  A4/E25 dir. Strasbourg  /  A320/E50 dir. Saarbrücken
ARMS AND AMMUNITIONS
In order to bring your arms, you must use the forms provided by the FFTir :
– Use one form, only the head of delegation can order it, and send a copy to the FFTir with the Final Form
– Upon arrival in France, present the invitation with the complete list of arms of all your delegation to French customs in order to have it checked
– On your departure, present the same documents to French customs.
ARMS AND AMMUNITIONS STORAGE
During your stay, the arms and ammunitions will be kept at the shooting range in high security conditions.
LODGING
Hotel booking must be made by yourself. No shuttle will be at your disposal from the hotels to the shooting range, nor from the airports. You will find hotels near the shooting range, as well as cars to hire and all other activities concerning on website :
www.moselle-tourism.com
FOOD SERVICE
Food and drink may be purchased on the site during the competition.
The Gala Diner will take place on Saturday, July 12th 2014 after the awards ceremony.
ENCLOSED
Preliminary entry form
Fire arms and ammunition forms
Final Entry form
Travel Form